Use of our parquet floors and stairs
Why is Weitzer Parkett demonstrating such ecological responsibility? Because our floors conserve energy quickly and easily in everyday use. They contribute to a healthy room climate, and can be sanded down, and therefore renovated, many times over.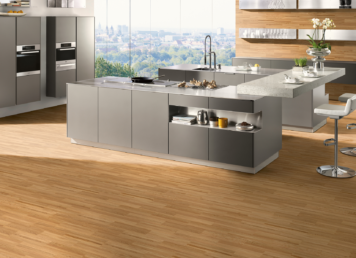 Parquet is a natural conserver of energy
More than three-quarters of the energy required in private households is used for heating. Current surveys show that parquet is up to 2.2 °C warmer to walk on than other floorings, such as tiles or laminate. That means our wooden floors reduce your daily energy consumption in a completely natural way. The difference matters: a room temperature which is just 1 °C lower actually saves 6% in heating costs.
Renovatable, high-quality surfaces
Thanks to our high-quality surfaces, Weitzer Parkett timber flooring is especially durable and resistant. That's why we offer a 30-year guarantee on our parquet floors. In the event of wear and tear, all our high-quality surfaces – no matter whether they are sealed or oiled – can be sanded down and renovated several times over, depending on the thickness of the wear layer. That makes Weitzer Parkett floors 'reusable'.