Maintenance-free parquet
from Weitzer Parkett
Wood needs maintenance and attention – which takes time and effort. Weitzer Parkett's unique, innovative multi-sealed maintenance-free parquet now puts an end to tedious maintenance rituals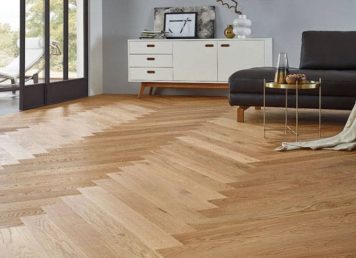 Unique sealing technology protects parquet flooring
Tedious maintenance care is now a thing of the past with the low-maintenance parquet flooring from Weitzer Parkett: A combination of different technologies makes it possible to preserve the original sheen and design of the parquet without the need for extensive care and maintenance. Our maintenance-free parquet has a coated surface with a natural-matte finish — you can even feel the brush strokes*. Even chemicals can't wear down the maintenance-free parquet. What's more, the parquet is also largely protected against dust penetration and accumulation. Weitzer Parkett's countless years of experience with wood drying have made it possible to develop a system that ensures a perfect fit and prevents problematic gapping.
*Excludes products made from nut wood
Absolute colour match for floor and stairs
Weitzer Parkett knows that a perfectly designed interior should not be limited by staircases and, as such, offers the matching stairs for every parquet flooring – in the same design and the same type of wood, colour and finish as the parquet itself. A uniform design creates a balanced overall look. Parquet and stairs become one. This approach is also ideal for renovations as existing staircases can be given a face lift easily and precisely.
Those looking for larger formats will enjoy the popular Maintenance-Free Parquet Planks