Absolute colour match
for floor and stairs
A consistent design results in a harmonious overall effect: parquet and stairs become one.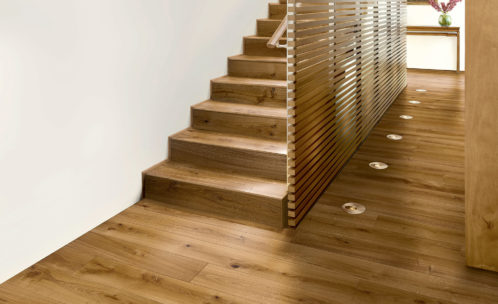 Because perfect room design does not end at the stairs
The aesthetics of a space flows to its conclusion via the staircase. That's why we manufacture matching staircases for every wooden floor – with the same format, wood type, colour and surface finish as the parquet itself. The existing stairs in renovation projects can also be individually designed. We deliver perfect-fit, quality solutions to quickly and easily cover stairs.
Your advantages at a glance
Floor and stairs from one source
Perfect colour match
Ideal for renovations
Seamless transitions:
Our system allows us to offer smooth transitions to the next floor.
Grooved edge profile from Weitzer Parkett
From the classic 40 cm wide step profile to the block step profile with seamless cover for old steps, we offer an intelligent solution for every requirement.
40 Style
40mm. Consists of several parquet strips and terminates with a mitred parquet surface on each of the longitudinal sides. wo step treads can be produced per large-format tread. Edge radius: 3 mm
58 Style
58 mm. Consists of several parquet strips and terminates with a mitred parquet surface on each of the longitudinal sides. Two step treads can be produced per large-format tread. Edge radius: 3 mm
30 Style Block
Variable riser (Height depends on each product). Perfect joining technology! Joining the riser and tread without shadow gap. Edge radius: 3 mm