The philosophy of our procurement
No to tropical woods, yes to domestic woods!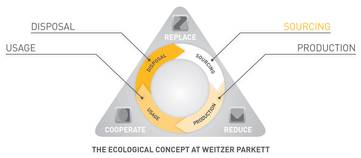 Wood is a special raw material. It promotes well-being, contributes to a healthy room climate, and radiates warmth and comfort. Wood is not only the most environmentally-friendly floor covering there is, but it is the only construction material we have which grows back. Weitzer Parkett contributes to a positive ecological balance all the way along its value-added chain. That's why we are so acutely aware of the origin of our wood when sourcing, and take care to ensure short transport routes.
Sourcing regional wood species
Weitzer Parkett uses timber almost exclusively from European forests managed on a sustainable basis. Around 50% of this comes from regions within 250 km of Weitzer Parkett, while the company sources just 10% of its timber from forests further than 750 km away. Weitzer Parkett abstains completely from using any tropical timber in the manufacturing of its products. The owner family of Weitzer Parkett privately sponsors Greenpeace forestry protection projects. The conservation of the last remaining virgin forests in Romania is an environmental concern of utmost importance to our managing directors.
We do not use any tropical timber
Continuing deforestation of tropical rainforests is causing greater damage to the environment than that caused by emissions from global traffic by road, air and sea. For that reason, parquet should be completely free of tropical wood. Some years ago, we became one of the first parquet producers to completely renounce the use of tropical wood. Our focus is on domestic and regional raw materials such as the Styrian Oak. This requires an extremely short distance of transportation during sourcing, as Weitzer Parkett is located directly at the heart of the Styria region. So make a stance against the use of tropical wood!
Protection of valuable forests
Dr. Nicola Weitzer and Mag. Alexandra Decker-Weitzer are personal sponsors of a forest campaign in Romania. The campaign is being run to preserve the last continuous and untouched forests in Europe. These are still home to large communities of bears, wolves and lynxes. This makes these unique forests of paramount importance for regional and European biodiversity. The support of this project is a personal and important concern of the family.
Auxiliary and operational materials from European production
Only producers from the EU region meet the high criteria set by Weitzer Parkett when it comes to environmental and employment protection, amongst other things. Suppliers from other countries of origin, such as the Far East, are subject to less strict domestic guidelines. As a result, they are not considered as partners by Weitzer Parkett.