In some rooms only a tiled floor or stone floor is suitable? Wrong!
In combination with fine ceramics, natural stone or a high-quality smooth plaster, the bathroom gets a chic spa ambience. With glued parquet this is usually achieved without leaving an inconvenient edge that sticks up. In addition, the heat from underfloor heating is transmitted into the room much faster and more efficiently – pleasant in barefoot areas. And that's how a wooden floor entices you to spend more than an hour a day in the bathroom.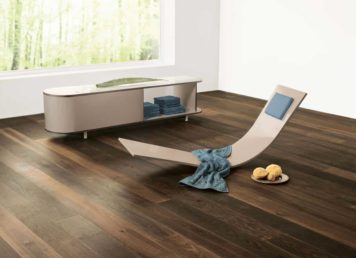 Many people are now replacing tiled floors with parquet floor, even in bathrooms.
On average we spend a total of just under an hour a day in the bathroom and in front of the wardrobe. This was discovered by an international study carried out by the market research institute GfK in 2016. What were once dreary bathrooms are now cosy retreats. An inviting atmosphere and wellness flair for relaxation are in demand. In this regard, natural and pleasantly warm parquet floors are increasingly conquering this formerly tile-dominated terrain.
Wooden floors in bathrooms are beautiful and atmospheric. The important thing is to choose the right type of wood, such as oak or walnut, and to consider a few basic things. Wetness and moisture are not a problem if you thoroughly air after showering and mop up puddles so that water does not remain on the wood for long periods. The most important factor is that the parquet is not laid with a gap, but is glued directly to the entire surface of the screed. Ideally by professionals who know what to look for, is what we at Weitzer Parkett recommend.
Revamping made easy
The old tiled or stone floor is simply not what it used to be. You have cold feet and have to settle for a load of warping and scratches? Does the floor need to go? What can you do?
Experience parquet
live in our Showrooms
Our Weitzer Parkett partners in your area will advise you on the perfect parquet format and its visual effect depending on the laying pattern.