Do you have a PVC floor – wouldn't you prefer to replace it with a parquet floor?
Weitzer Parkett offers a healthy alternative for PVC floors for the best value for money.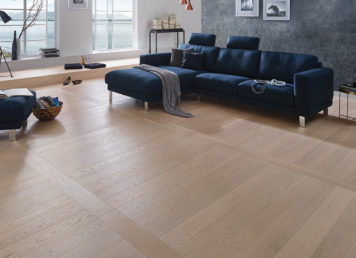 Renovate with Weitzer Parkett, so quick, so dust-free, so quiet.
PVC is a flooring material that some people favour over parquet due to its price. People also prefer to avoid spending a lot on maintenance. With its functional solutions, such as maintenance-free parquet, Weitzer Parkett offers a healthy alternative for the best value for money. Parquet doesn't always have to be expensive! Since PVC floors are very soft, heavy furniture such as solid tables can easily damage it. The lacquered ProStrong surface of Weitzer Parkett is particularly well-suited for heavy-duty use: it is extremely scratch-resistant and even resistant to chemicals.
What are PVC floors made of?
PVC (polyvinyl chloride) is also known as vinyl. PVC is a brittle, hard and thermoplastic material. Plasticisers first have to be added in order to process it into a soft, elastic flooring. In the past, manufacturers used phthalates to achieve the same effect. These substances are not firmly bound to the flooring, they can escape into the air through abrasion and be harmful to human health.
The legal requirements in this area have become much stricter, however, PVC floors that are produced outside the EU may still contain harmful additives.
The unique advantages
Perfect room acoustics
Floor can be walked on straight away
Easy to remove
Transparent coststen
100% recyclable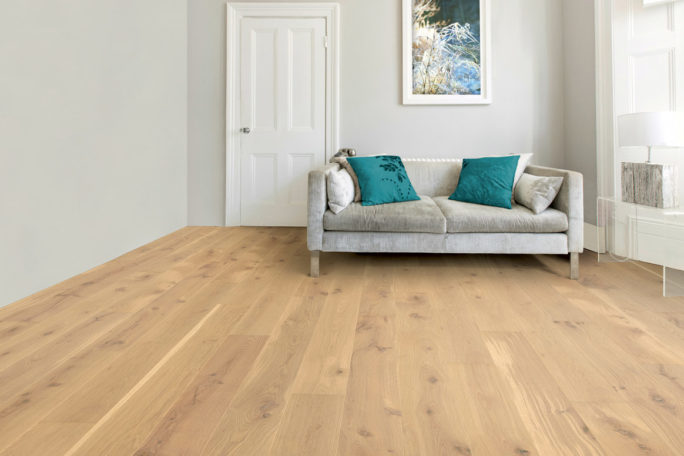 Environmentally harmful disposal
However, what even the most environmentally friendly manufacturer cannot change is the fact that PVC floors can only be disposed of completely in incinerators. When burned, PVC releases toxins that cannot be allowed to escape the incinerator. So, in terms of disposal PCV or vinyl is very bad for the environment.
Do not forget to consider the sustainability of your floor! Parquet, in contrast to PVC, can be sanded down several times and used for generations. Generally speaking it is not possible to sand down PVC floors. Furthermore, self-adhesive PVC leaves hard-to-remove adhesive residues on the surface beneath.
We probably needn't make a point of mentioning the fact that wood is a pure, natural product of a renewable resource and by buying a parquet floor you are thus showing responsibility for the environment.
"WP Looseglue" – Replace your floor quickly and easily
With Weitzer Parkett you can renovate without the hard work. Your new parquet will simply be laid over the old flooring. Sandwiched in between is the unique WP Looseglue Matte which takes just a moment to apply. In most cases the old floor does not need to be removed, which would otherwise stir up a huge amount of dust.
Experience parquet
live in our Showrooms
Our Weitzer Parkett partners in your area will advise you on the perfect parquet format and its visual effect depending on the laying pattern.